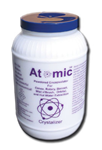 Atomic
Atomic. We've taken the water out so you can encapsulate and save! This is a true crystallizer that surrounds the left behind dirt. Dries 100% brittle, with no sticky residue, to keep the carpet cleaner longer! Pleasant orange smell. Made from safe and natural ingredients. 1 6lb jar cleans approx. 20,000 sq ft! Add 2oz to 1 gal. water, stir until dissolved. Consumer Alert: Our competitors products contain optical brighteners that make the carpet look shiny and white, but as the carpet dries and the days that follow, the carpet gets "duller". Plus, optical brighteners are not environmentally safe and not approved for carpet use by many institutions, including the IICRC Carpets get even cleaner the next day! Now that is a unique technological breakthrough! No other encapsulator can say that!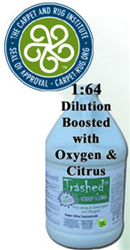 Trashed Green
Dilution: 1:64, 16oz of Trashed Green and the rest water in non adjustable hydroforce, pump up sprayers use 2 oz to a gallon. Safest environmental product on the market. Not only that, the dilution is 1:64 and for unbelievable performance we added Oxygen and Citrus. It is a prespray and a detergent in one for carpets, tile, and grout. It also removes mold and mildew. Use trashed green for a carpet prespray, carpet cleaning chemical, tile and grout cleaning, hard surface cleaning, upholstery cleaning, and as an unbelievable spotter when used at 1:16 dilution. So throw away all those overlapping products from other manufacturers. Using this product, you can easily get 10 cents more per sq. ft. (or up to 33% more). Window washers have also discovered the cost savings in Trashed Green. One ounce makes a gallon of window cleaner that cuts through organic and solvent stains
Trashed 2 High PH
We know you work hard and don't have time to fight with "trashed" floors, therefore we have formulated Trashed High pH. It is made for the ultimate filth on carpet & floors. Once again we brought the cleaners and chemist together for this unique product. Not only does it work good, but it ships for free in 48 states when you buy a case or more. Trashed High pH also works like nothing before it on greasy restaurant floors and carpet. With a pH of 13, it is definitely not something to play around with.
Do not use on light fabrics that are clean. Do not use on most upholstered fabrics. Trashed High pH contains no naphthas, carbon tetrachloride, benzene or chlorinated solvents. As a pre-spray for carpets, floors, decks & siding use 4 to 8 oz in "pump-up" sprayer. In a regular Hydro-force use 32 to 64 oz and the rest water. Dilution 1 to 32. MSDS sheet printed on label.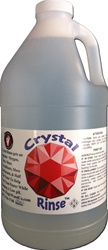 Crystal Rinse
New: Crystal Rinse gets an upgrade for 2012!
More Oxygen to help remove organic stains from your rinse.
More Citrus to help remove oil based stains from your rinse.
More Crystallizers to keep the customers fabric and carpets cleaner longer.
More Surfactants to help you clean faster.
Half the Water to cut down environmental waste from packaging and shipping.
Grease Eater

Pre-spray. Build-up, trashed traffic lanes, greasy restaurants, oily facilities, trashed out apartment carpets, greasy floors (ceramic, grout, etc), stale odor from lack of cleaning, organic stains, protein stains, oil-based stains and anything you throw at it. This is a very powerful product, yet has natural ingredients. When using, do not over-spray, as gravity will take the stains down very quickly, Instead, mist and clean. This 5 gallon pail contains 30lbs of the highest concentrate of Oraganic, Oil, Dirt and Enzymatic ingredients. So, concentrated that any other similar product gets put to shame. 2 oz makes a gallon ready to use! That is 240 gallons in a pail to destroy grease, dirt and protein based stains. In a regular hydroforce (1:9) add 16 oz and the rest water.
2X concentrate
Spot guard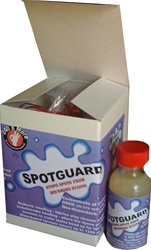 Keeps Spots from Becoming Stains!
Concentrate of Concentrate. 30 ml makes 1 ready to use gallon. Saves freight and waste from shipping water around.
Reduces resoiling - fabrics stay cleaner longer.
Unbelievable beading - alters the dynes (surface tension) to make stains bead up to give your customers enough time to soak up the stain.
Waterbased formula covers up to 1200 sq. ft.. On plush carpet SpotGuard covers 800 sq ft. The less absorbent the surface, the closer to 1200 sq. ft. (Based on absorption tests performed in a controlled environment on Sep 21 2011).
Smells like fresh washed sheets. Tested on women and men to be pleasing, pleasant and not overwhelming.


Formulated by David Oxnard, Phd Chemist and Taf Baig, a Master Textile Cleaner and IICRC Instructor who has been in carpet cleaning business for 21 years.

No other protector prevents resoiling & beads better. SpotGuard keeps spots from becoming stains on carpet, fabric and many other surfaces.