Randy Pierce - Superior Steam Cleaners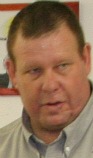 I.I.C.R.C. Instructor & Certified Master Cleaner
Carpet Cleaning Technician - CCT
Odor Control Technician - OCT
Upholstery Fabric Care Technician – UFT
Water Restoration Technician - WRT

Randy's positive attitude combined with a motivating teaching style makes him one of the most requested instructors in the country. He is well known for teaching his students how to be ultra competitive in today's fast paced business environment through the use of advanced technical skills and innovative sales and marketing techniques.
More about Randy Pierce...
---
Noel Frank - Director of Training, Chemspec Inc.


www.chemspecworld.com
I.I.C.R.C. Instructor
Carpet Cleaning Technician - CCT
Commercial Carpet Maintenance Technician - CCMT
Upholstery Fabric Care Technician - UFT
Odor Control Technician - OCT
Water Restoration Technician - WRT
Color Repair Technician - CRT


More about Noel Frank...
---